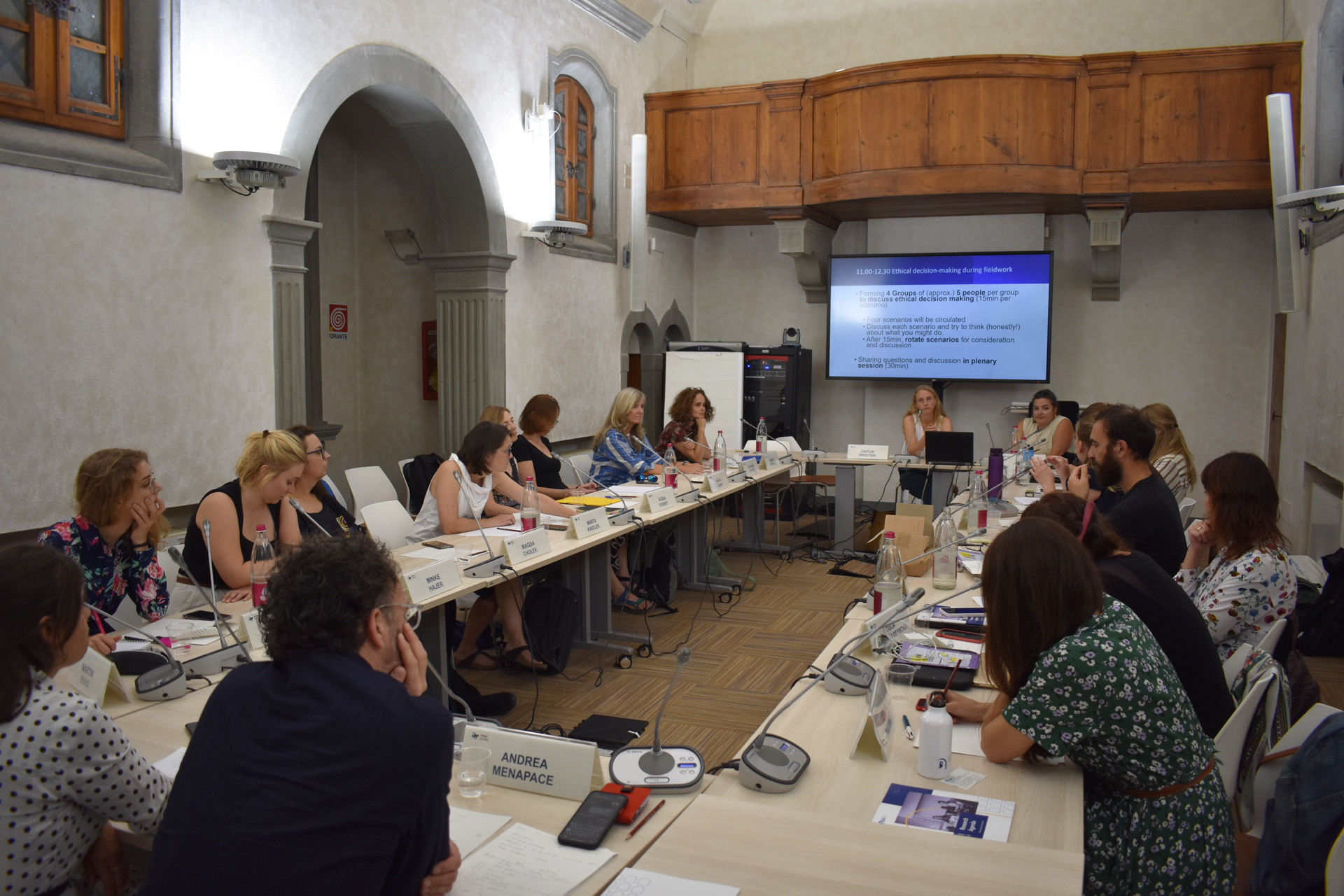 14 Nov

DignityFIRM at PRIME's Fieldwork training in Fiesole, Italy on research ethics
DignityFIRM at PRIME's Fieldwork training in Fiesole, Italy on research ethics
By: Sterre Naaktgeboren, from the coordinating team at Radboud University
What are the advantages and risks of using gatekeepers to access migrant workers? What do you do when you talk to an undocumented worker whose pay is withheld? What are "safe places" for interviews with migrant workers and employers?
These were some of the questions discussed during the fieldwork training organized by the Horizon Europe(HEU)-funded research project PRIME (Protecting Irregular Migrants in Europe) on 27 September 2023 in Italy. The purpose of the training was to prepare researchers for their interviews, focus groups, surveys, and other fieldwork within the context of HEU-funded projects on irregular migration. As PRIME invited researchers from sister projects to participate, various DignityFIRM researchers (Andrea Menapace, Irene Palla (CILD) Yevheniia Hryhorieva (Europe without barriers), and myself) traveled to Fiesole to follow the training. During a day full of presentations and discussions, we touched on key themes and dilemmas, such as:
how to access irregularized migrants and importantly,  how to ensure that migrants who invest resources to participate in our research do not experience negative repercussions of their participation. An important take away is that fieldwork researchers should know the field in order to be able to link interviewees to services that are available;  
the safety and mental health of interlocutors and researchers, a topic that is insufficiently talked about among researchers. An important lesson learned is that researchers can take steps before, during, and after fieldwork to cope with challenging fieldwork experiences. For instance, creating a personal document with safety and mental health risks and ways to cope with these risks is a useful way to prepare for fieldwork. During and after fieldwork, discussing experiences with a trained professional, colleagues, friends or family could be one way to deal with difficult experiences.
The training was an excellent event for raising awareness among researchers on ethical dilemmas they as fieldwork researchers face and it provided practical tools to tackle those dilemmas. To conclude, this day was a wonderful opportunity for researchers from different HEU-projects to meet! In the upcoming months, online follow-up meetings about (ethics in) fieldwork will be organized. For the event and the follow-up sessions we thank the PRIME team and are happy to contribute.