29 Jul

DignityFIRM: The project | Our actions
DignityFIRM: The project | Our actions
On the 1st of April 2023, the Horizon 2020 project DignityFIRM, financed by the European Union, has officially come to light. But its conception began a year earlier when ten institutions from eight countries identified the necessity to examine irregular employment of migrant persons in the European farm-to-fork market (F2F).
This sector is vital to the food supply chain, which has become more evident since the COVID-19 pandemic and the Ukrainian war and has not yet been investigated with an interdisciplinary approach. 
This is why in the next three years, DignityFIRM will seek to answer interconnected questions, such as:
After several internal debates, we decided to include in the definition of migrant employees in an irregular situation all those workers in F2F sectors who have an irregular residence status (failed asylum seekers or labelled as undocumented or sans-papiers); Non-EU citizens who stay regularly but work informally; and EU mobile citizens who engage in informal/irregular work. This choice permits us to embrace the complexity of the wide range of real situations and explore them from the different points of view of the employers, workers, organizations that assist them, state institutions, and European policymakers.
So, in the following months, the challenge will be to analyze them on macro and micro levels, as the European, national, local, and personal, and put them in dialogue with multiple structural policy domains. To this end we will use a mixed methodology integrated with the perspectives of gender, intersectionality, health, and safety.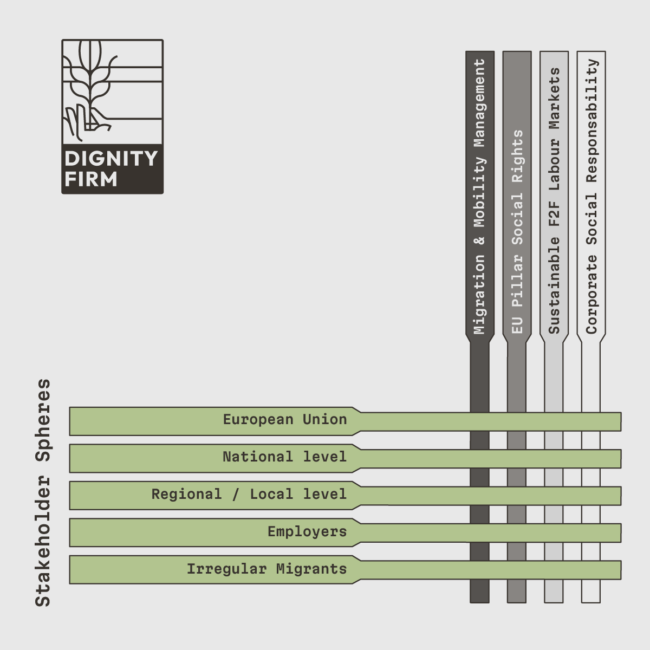 This is how we plan to elaborate dignified policies to ensure migrant workers have knowledge and access to their rights and essential services. While simultaneously addressing the well-being of the receiving communities, contributing to a more equitable and dignified future for F2F sector workers in the EU during the transition to sustainable F2F industries. 
We will keep you informed through our blog and social media on how we will face this complex yet inspiring job for dignity!