13 Sep

DignityFIRM in Warsaw: The 2023 Annual IMISCOE Conference on Migration and Inequalities
DignityFIRM in Warsaw: The 2023 Annual IMISCOE Conference on Migration and Inequalities
Early July 2023, DignityFIRM researchers attended the Annual IMISCOE Conference in Warsaw to present their work and to become inspired by the many relevant panels convened. 

A highlight of the week was the DignityFIRM panel "Inequalities for labour migrants in food supply chain industries", chaired by Pascal Beckers and discussed by Tesseltje de Lange, the DignityFIRM coordinators. DignityFIRM consortium members from Italy (Pietro Cingolani, FIERI), Poland (Kamila Fiałkowska, Paweł Kaczmarczyk and Kamil Matuszczyk, WU), Spain (Berta Güell, CIDOB), Morocco (Hanane Darhour, University Ibn Zohr) and Germany (Nora Gottlieb, Bielefeld University) presented preliminary findings or developed papers on their empirical and socio-legal research scrutinizing the conditions and rights of labour migrants in their respective countries in  Europe as well as Morocco.  In doing so, this panel enhanced our understanding of the underlying complex legal structures intersections between regulatory infrastructures, other structural determinants of the conditions of labour migrants, and their challenges and opportunities to access rights and services in practice.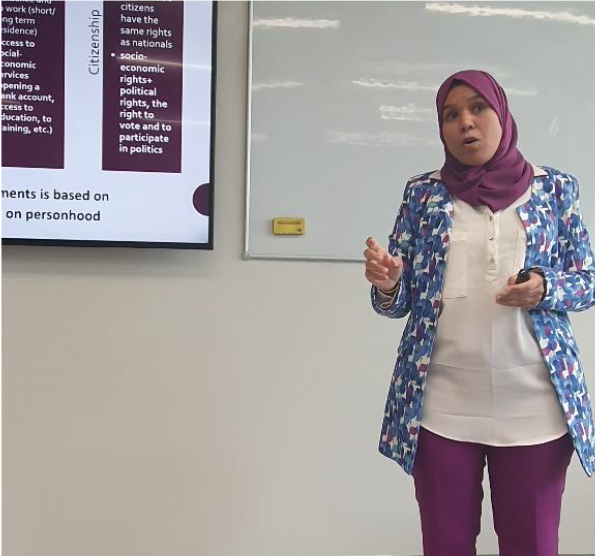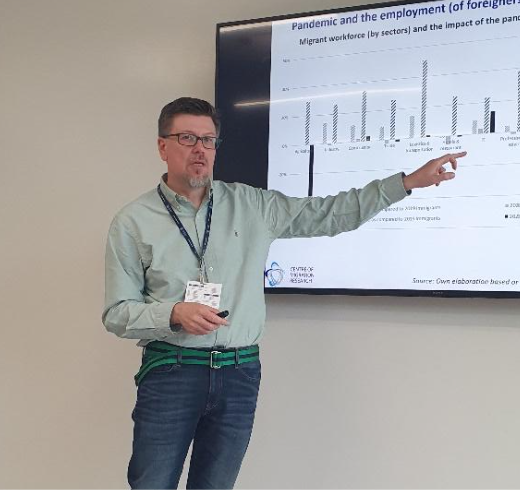 DignityFIRM participated in a panel presenting the seven Horizon Europe (HEU)-funded projects on irregular migration and return: MIrreM, I-CLAIM, FAiR, PRIME, GAPS, MORE and DignityFIRM. The panel, consisting of the Principal Investigators of all seven irregular migration-related Horizon Europe-funded projects, first introduced all seven projects. Next, ethical challenges were reflected upon. We critically discussed how new evidence can "enhance EU migration governance", whom such evidence addresses and serves, how this evidence can be (mis)used, and how projects of this kind can advance research on irregular migration. This panel was a great opportunity to understand the differences between the seven projects, to meet team members working on these projects, and to kick-off our cooperations!
Besides our own panels, we attended various other panels touching on divers topics related to irregular migration. The MIrreM project presented papers about data on irregular migration and the politics of (in)visibility and categorization, the FAiR project showed its plans and preliminary findings, and I-CLAIM had two panels on the production of irregular living and working conditions for migrants and racialized communities in Europe. Besides these panels on irregular migration, the researchers of DignityFIRM participated- in other panels that were closely aligned with our project, contributing to migration research more generally. For instance, the various panels about platform work and participatory action research taught us more about, and confirmed the relevance of our chosen sectors and methods. 
After a week of fruitful discussions, we concluded the conference with a dinner with the team and a stroll around Warsaw, establishing bonds for the team science we set out to deliver. Congratulations to our DignityFIRM team member Paweł Kaczmarczyk for organizing this year's IMISCOE Conference!